---
By Charlie, Pasty Central on Tuesday, September 19, 2000 - 09:35 pm:

Among the last "green" of the season, today's Pasty Cam is provided by Jon Jacobson of PictureMichigan.net

It just so happens, yours truly walks to this spot several times each week, usually after a stroll through "The Loop" with our dog Casey. (The Loop is a one mile circle through the woods at the corner of Five Mile Point Road and M-26, which passes back by the old Eagle River dump).

I like to read the old gravestones, and imagine what it was like living back in the mining days. Many a young miner has his final resting place here, as the Copper Mines were a hazzardous occupation.

Thanks, Jon, for a well-framed view of this familiar sight which I pass each morning on the way into work at Pasty Central.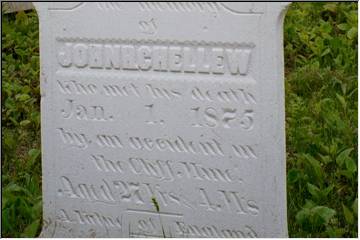 In Memory of
John R. Chellew
Who met his death
Jan. 1, 1875
by an accident in
the Cliff Mine
Aged 27 yrs 4 M's

<!-/Post: 1152-!> <!-Post: 1153-!>