---
By Charlie, Pasty Central on Monday, September 18, 2000 - 10:57 pm:

It's always exciting to tune in the bridge cam and catch a glimpse of the lift bridge raising (though the people waiting in the cars probably aren't too excited.) The bridge cam looks out a 3rd floor window in Daryl Laitila's house in Hancock - and when the Algorail slipped through this passage, Daryl grabbed her trusty Pasty Cam and captured it for the world to see.

The second shot, with the stone building visible on the other shore, reminded me of a view from the Houghton side, which is stored somewhere back in the Pasty Cam Archives almost 2 years ago.

Wonder how many times the bridge has appeared on these pages?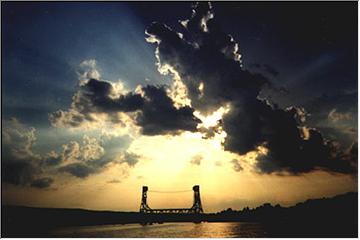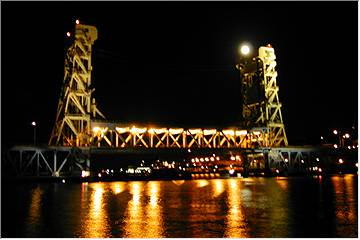 <!-/Post: 1143-!> <!-Post: 1145-!>