---
By Charlie at Pasty Central on Thursday, December 6, 2001 - 07:56 pm:

In our never-ending pursuit of a glimpse of life in the U.P., Stephen and Alicia Marshall take us inside the Cliff View Inn for a look at their art work. Maybe not as elaborate as last month's Ambassador murals, but interesting anyway.

On US-41 just down the hill from the Snow Thermometer north of Mohawk, the Cliff View was owned by Tom Stiglich for many years, until he sold it to Holly and Barney Leskinen.

In 1988, we arrived in Eagle River late in the day to spend our first Christmas Eve. It never occurred to us to pick up something to eat on our way through Houghton/Hancock and Calumet. I remember the taste of the hot sandwiches we found at Cliffview.

Just a couple of months ago we ran into a group of four wheelers from Minnesota, next door at the Vansville bar. This gives you a good idea of the view across the highway from this front porch.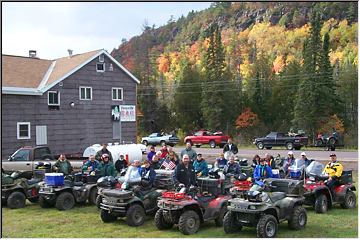 <!-/Post: 7470-!> <!-Post: 7474-!>