---
By Charlie at Pasty Central on Tuesday, November 27, 2001 - 08:15 pm:

Not only did snow arrive in abundance today in Calumet, but so did pasty orders. Some kind of record today, as Pasty Central appeared in the Detroit Free Press annual food gift guide. We are grateful to the folks at the Freep for also bringing the Pasty Central story to folks all over the country, through their features which make it to the wire services.

The pasties leave snowy Calumet these days by way of a Fedex truck, and there's an interesting feature we've added to our order process. After your package is on its way, you will be automatically emailed the TRACKING NUMBER of your package. This way you can follow the progress of your delivery over at www.fedex.com. If your pasty order is a gift, you'll be able to verify the time it arrived!

I often think of the copper miners who lived 50 to 100+ years ago on streets like the one above (though the houses have changed). Wouldn't they be amazed to see how far pasties have come!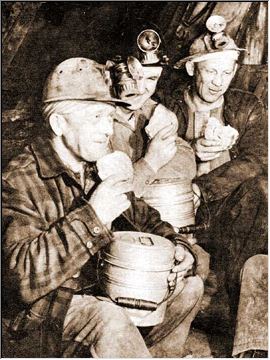 <!-/Post: 7317-!> <!-Post: 7318-!>