---
By Charlie at Pasty Central on Wednesday, March 21, 2001 - 04:01 pm:

I see we have touched a nerve with Dan's picture this week. We do not intend or desire to see Cam Notes become controversial... We have a very well travelled forum for that here at Pasty Central called Keweenaw Issues, where you can post messages anonymously OR responsibly.

It would be hard to catagorize or label me personally on this issue. On the one hand, some of our most joyful and profound exploration of Keweenaw's beauty have been snowmobile excursions around the peninsula with my children. I could point at a couple dozen Pasty Cam shots during the last three years which were taken from the seat of our snowmobiles.

On the other hand, I have notified the sheriff on more than one occassion when an un-thinking snowmobiler has been a threat to themselves or the peaceful enjoyment of the property owner on whose land they were crossing without permission (and in spite of clearly posted signs.)

I do believe strongly that if one disagrees with activities which are allowed under current law, our energy should be directed to changing the law, not striking out destructively or bitterly against those who take part in the activity. This is not a liberal or conservative proposition - it could be applied to anything - from rain forests to abortion clinics, hang gliding to snowmobiling.

Jim - come visit us sometime in Eagle River, and we'll blow out some carbon together. I know lots of places that are nowhere near anybody's house.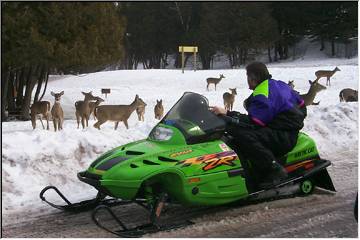 <!-/Post: 3258-!> <!-Post: 3259-!>