---
By Charlie at Pasty Central on Sunday, November 2, 2003 - 10:39 am:

Before I could post a note this morning, TLM's question appeared. No, Pasty Central pasties have never been baked at Thurner. The last few years we supplied Thurner with pasties, so they served a lot of ours, but actually they are baked at the Baroni building on Sixth Street in Calumet, which is a USDA inspected facility. We will miss the familiar Thurner trucks, which have delivered thousands of our pasties to local stores and restaurants.

Now, about today's Shoebox Memory... Remember North Central Airlines? I don't remember which came first, NC or Republic... but they both displayed the 'Blue Goose' logo. Remember the old North Central ticket pouch? Back when a flight attendant was still known as a 'stewardess'.

Have a good week!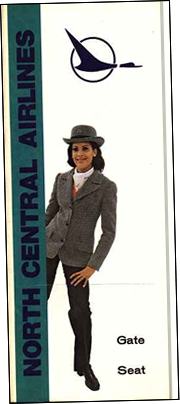 <!-/Post: 25159-!> <!-Post: 25158-!>