---
By Michele on Wednesday, September 19, 2001 - 12:48 am:

<!-NOTE: Message edited by 'admin'-!>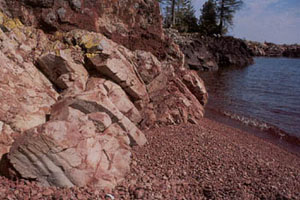 HOUGHTON – An "outpouring" of personal letters from both residents and visitors paved the way for the Michigan Natural Resources Trust Fund Board's decision to fund the state's Keweenaw Tip purchase of about 6,000 acres. At least that was Keweenaw photographer Charlie Eshbach's impression when he walked in the door to make a five-minute slide presentation to the Trust Fund Board on September 12, as they considered the top contenders for more than $30 million in land acquisition funding.

Eshbach said the first person to greet him before the board's meeting was Linda Harlow, secretary to Sharon Edgar, chief of the Grants Administration Division. Eshbach said Harlow told him letters supporting the Keweenaw land acquisition project were "too many to count."

"The thing that impressed the board," Eshbach said, "was the outpouring of appreciation for the Keweenaw through original letters (some very long)."

He noted people wrote about their love for the area and their memories of spending childhood vacations here.

Eshbach, one of the organizers of the grassroots group Public Access Keweenaw (PAK), is a member of the Michigan Nature Association. He was one of those instrumental in preserving the Estivant Pines Sanctuary near Copper Harbor in the 1970s. He said other PAK members had asked him how that effort succeeded.

"I told them the only way you get anything going is when you get the people behind you," Eshbach said.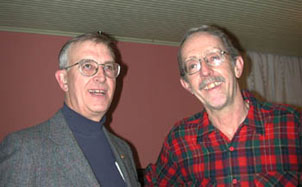 After PAK's December 4, 2000, public forum on how potential Keweenaw land sales could jeopardize recreational use and preservation of commercial forest land, lakeshore, trout streams and delicate ecosystems, other grassroots groups and local government bodies joined in the effort to support the Department of Natural Resources (DNR) grant proposal to the Trust Fund for the purchase of lands at the Tip of the Keweenaw Peninsula. PAK helped to publicize the letter-writing campaign to the Trust Fund Board members.

Eshbach decided in early August, 2001, to request a place on the agenda of the Trust Fund Board's September 12 monthly meeting. When the tragic events of Tuesday morning, September 11, led to the cancellation of his noon flight to Lansing, Eshbach got in his car Tuesday afternoon and drove to the capital – a 10-11-hour trip. He said he willingly paid the $6 per gallon gas prices and managed to get some sleep before the 9 a.m. meeting on Wednesday.

Concerned that some of the board members, all five of whom are from lower Michigan, might not have an accurate vision of the Keweenaw Tip, Eshbach sent each of them, in advance, a copy of his book, "Keweenaw Solitudes," marking photos of areas included in the purchase, such as the mouth of the Montreal River and Fish Cove. At the last minute, learning that Keystone Bay had been removed from the purchase acreage because of a sale, Eshbach reduced the number of slides from 12 to 11. He said his presentation was titled, "If I could take you there today, I'd want you to see …" He also reduced the length of his presentation to four minutes, yielding the last minute to Grant Township Supervisor Ken Korhorn, who read to the board the township's statement supporting the Keweenaw acquisition project.

Eshbach said he wished Bill Deephouse, president of the Copper Country Chapter of Trout Unlimited (CCCTU), had been able to attend the Trust Fund Board meeting to answer the board's questions on fisheries in the area.

"Bill certainly helped me out … a tremendous amount," Eshbach said.

Deephouse, who had sent a letter on behalf of CCCTU to the Trust Fund Board in support of the Keweenaw Tip sale, said he was pleased with the news of the board's recommendation but disappointed that Lost Lake was not included in the purchase as was originally believed. Since 1998, CCCTU has partnered with the Michigan Department of Natural Resources (DNR) in planting Assinica Brook Trout in Lost Lake.

Eshbach said his slide show was the fifth of seven presentations on projects competing for Trust Fund money.

"Even though we were competing for the money, everybody in the room was rooting for us. They all wanted to see the Keweenaw saved, too," Eshbach said.

He noted George Burgoyne, DNR deputy director, gave a Power Point presentation of three maps showing how the purchase area would be added to land now owned by the state and The Nature Conservancy (TNC), which is acting as a broker in the sale.

"If you lay those (maps) on top of one another it shows a beautiful piece of land," Eshbach said.

The problem for the Trust Fund Board, according to Eshbach, was how to fund so many worthy projects with limited funds. He said the motion by Trust Fund Board Member Keith Charters of Traverse City to fund the $12.5 million Keweenaw proposal over two years – $5 million this year and $7.5 million in 2002 – raised the spirits of everyone in the room.

"I wanted to jump up and scream, and there wasn't anybody close by that I knew that I could hug," Eshbach said. "Ken Korhorn – I would have hugged him, but he was clear on the other side of the room."




Keweenaw purchase "not a done deal"



Korhorn announced the Trust Fund recommendation of the Keweenaw Tip project at the Grant Township Board's September 14 meeting.

"I was very pleased at the favorable response from the Trust Fund Board. I was impressed with their knowledge (including) knowledge of the Keweenaw," Korhorn said. "I'm delighted that this wilderness area appears to be headed for public ownership, thereby maintaining public access … Citizens from all over Michigan and beyond will be able to enjoy this addition to state-owned recreation property."

He noted the funding recommendation is not really a "done deal," since the DNR and TNC still don't have a signed purchase agreement with landowner International Paper/Lake Superior Land Company (IP/LSLC).

Gina Nicholas, Keweenaw County property owner and member of the Grant Township Land Use Planning Committee, said she was "really pleased" at the news.

"Whatever else we can do to ensure that the DNR acquisition is completed I'd like to do, and I know all my family and friends would, too," Nicholas said.

Eshbach also expressed some concern about the lack of a purchase agreement.

"Negotiations are continuing with Lake Superior Land Company," he said. "That's not a cause for alarm. The DNR, when they purchase land for the state, have a lot of boxes to check off – a lot of different items that have to be satisfied … It's a matter of methodically going through these steps. It's not helpful that IP is a global company, because their wheels grind slowly, so this slows the process."

Walt Arnold, IP/LSLC director of marketing and sales, told members of the Keweenaw County township land use committees at their September 17 joint meeting that the company and TNC are still negotiating the potential sale.

"I appreciate your support," Arnold told the group working on a county land use plan. "Your letters made a difference. I'm sure of that."

Arnold said the negotiations on appraisals include discussions of mineral rights and land split rights according to Michigan's Land Division Act. He noted the land was appraised without mineral rights.

Adrian Jentoft, property specialist for the DNR Office of Property Management in Marquette, said on September 18 that neither appraisal (TNC's or IP/LSLC's) had been approved. Jentoft is one of a DNR team now reviewing the appraisals.

"We couldn't go too far until we knew there would be money available," he said. "We're now working with the appraisals to come up with a fully supported appraised value. We have to pay fair market value for everything we buy."

Fair market value is the acceptable value of property put to its highest and best use, he explained.

Jentoft confirmed the appraisals do not include rights to deep mineral development and the state would like to purchase these rights with the land.

"Whenever there are minerals available we will try to include them with the price of the property, because we do not think the minerals should be severed from the surface," Jentoft said. "You have to expect to pay for all rights … Mineral rights do have some monetary value. The fair market value of minerals must be included (in the price) if we're going to get them."

Jentoft noted the DNR had purchased mineral rights as part of the negotiations for an adjacent property (between Highrock Bay and Keystone Bay) that the state acquired a few years ago from the Longyear Corporation.

Chuck Brumleve, geologist and co-chair of the Grant Township Land Use Planning Committee, said it's common for people in Keweenaw County not to own the mineral rights to their property, particularly because in the past the mining companies owned much of the land. Brumleve, who owns property near the Smith Fisheries Road, close to the proposed state purchase area, said the area near his property has been drilled for mineral samples because it is part of the Keweenaw Fault.

"Mineral rights in that area would be important," Brumleve said. "The likelihood of mineralization along the Keweenaw Fault is well established … It might be better to keep surface and mineral rights split to keep control of land diversified."

Jentoft said, however, that if the state owned the surface without the mineral rights, the owner of those rights could come in and develop, with compensation for surface impact, but would not need approval of the surface owner. If the state owned the mineral rights, he added, mineral development would be "unlikely," given the location and features of this property.

As for the "split rights," permitted by the Land Division Act, Jentoft said it was his opinion the appraisals include them.

"The state would like to acquire the legally available number of splits that could accompany the land. If the splits are not included, there would be an impact on the (fair) market value of the land," Jentoft explained.

He said this does not mean the state has any intention of splitting the land.

"I don't think there's an intention by TNC or the state to divide the property or to develop the mineral resources," Jentoft said.

He noted the Keweenaw acquisition is still "a long way from a done deal" as the negotiators try to reach a solution acceptable to both parties.

"It's a unique resource," Jentoft added. "We're going to do our best to get it, but at the same time we have to get it at a fair price."

Jentoft said it is a good thing TNC has agreed to pay for the land and hold it until the Trust Fund money is available for the state to pay them back.




State legislature must approve land acquisition appropriations



Sharon Edgar, DNR Grants Administration Division chief, said the Michigan legislature met shortly after the Trust Fund meeting on September 12, to consider an existing appropriations bill. While the Trust Fund properties were not included in that bill at that meeting, she said, the fact that the Trust Fund decided on its recommendations for land acquisition at their September meeting, rather than at the October 3 meeting as originally scheduled, could speed up the appropriations process.

"We did achieve the goal of having a list of projects to share with the legislature," Edgar noted.

She said two or three weeks can make a difference. The goal is to include the list in this appropriations bill and hopefully get it passed before the legislature's December break. The 10 land acquisition projects recommended for funding total more than $30,156,000. Edgar noted the legislature has in the past generally accepted the board's recommendations but it has the right to reject any of them.

Some of the other projects approved along with the Keweenaw Tip proposal are: the Maple Bay and Natural Area for Grand Traverse County, at $6,816,920 with a $2,395,132 match; the Storey Lake Property in Cheboygan County for the DNR at $7,900,000; Millennium Park Acquisition II for Kent County at $3,390,000 with a $1,191,081 match; the Clinton River Trail Acquisition for Rochester Hills in Oakland County at $1,900,000 with a $1,100,000 match; the Ransom Lake Natural Area for Almira Township in Benzie County at $859,920 with a $302,133 match.

Said Eshbach, "All of the projects were worthy, but you have to find a way to get yours to the top of the pile. The way ours got to the top was through that outpouring of support from the lovers of the Keweenaw."

Eshbach said the letters provided a setting that made his lobbying at the Trust Fund Board meeting easy.

"It was like gathering the eggs," he said. "They were already laid there. All I had to do was gather them up."

Keweenaw County Commissioner Don Keith said he wouldn't celebrate until the acquisition is final but added the Trust Fund Board decision was one issue that raised his spirits and his neighbors' during an otherwise tragic week.

"Good things happen when people are willing to work and communicate their wishes on land acquisition for public access in Keweenaw," Keith said.

Jim Ekdahl, DNR Upper Peninsula field deputy, said he was "as pleased as possible" with the Trust Fund Board's decision. He agreed there were many "incredibly good" proposals for the board to consider. He said the board members were disappointed they didn't have more money available to spend.

"It was just a matter of trying to pick the best of the best," Ekdahl said. "I had a chance to talk to quite a few of the board members in the last few weeks and told them what an excellent opportunity this (Keweenaw Tip project) was for the public."

Ekdahl noted he was sure other projects were also well supported, but the Keweenaw Tip proposal was the only one he was involved with personally.

"I've got a whole file full of letters," he said.




Commission approves slant drilling for oil and gas under Great Lakes



Ekdahl spoke on his cell phone while driving back from the September 14 meeting of the Michigan Natural Resources Commission, whose members approved a resumption and expansion of slant drilling (directional drilling from the shore) for oil and gas under the Great Lakes. The Trust Fund money for public land acquisition comes from oil and gas revenues from state-owned land.

"It's important for people to remember where this money comes from," Ekdahl said. "I don't imagine we would have the opportunity to acquire land for the public on the scale that we do without this kind of funding for it. I know that other states look at us with envy because we're able to use these funds for such a good public purpose."

Ekdahl said so far the existing wells for slant drilling (under Lake Michigan and Lake Ontario) have shown no record of environmental problems.

However, Rep. Bart Stupak, D-Menominee, called the commission's decision ill-advised and ill-conceived and said Michigan legislators should overturn it.

The commission's 6-1 vote will permit the state to implement a plan that calls for as many 25-30 new wells in a half dozen zones on Lake Michigan, Lake Huron and Lake St. Clair. Over the past 22 years, 13 directional wells have been drilled in the state, and seven are currently active.

"The Michigan House has indicated its opposition to directional drilling, and a 180-degree change in position by a couple of state senators may indicate that body is prepared to prevent renewed drilling," Stupak said.

If the Michigan legislature fails to act, the U.S. House and Senate will move forward with strong bipartisan support for amendments already attached to their respective versions of the Energy and Water Appropriations Bill, one of 13 bills approved annually to fund the federal government.

Author's note: To read Stupak's previous comments on slant drilling check out his Web site at http://www.house.gov/stupak.

– Michele Anderson
September 18, 2001 <!-/Post: 3049-!> <!-Post: 3058-!>