---
By Charlie at Pasty Central (Chopper) on Sunday, December 4, 2016 - 08:42 am:

This month the Detroit Free press included Pasty Central in their online shopping gift guide, and today we return the favor with a link to this report by Mike Wendland. His video includes several glimpses of the U.P., though it is more comprehensive, covering the whole state during this era. We've had a couple of discussion about how to identify White Pine here on Cam Notes over the past 18 years, for which Mike gives us a refresher course.

As December pasty orders begin shipping this week, so do the 2017 Pasty Cam Color Calendars, a review of some of the favorite daily scenes over the past year. You can have the calendar included with your pasty order (and save on shipping cost) or request it separately with a gift order. The cover this year was also one of the winners in the Northwoods Conservancy, from photographer Quinn Kaspriak on the shore of Lake Superior, which he calls, "Searching the Cosmos". As always, you'll find lots of other unique views of personal interaction with the wonders of the U.P. in this year's calendar.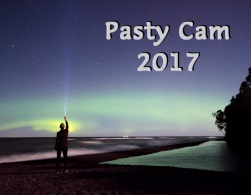 Have a good week :o) <!-/Post: 148487-!> <!-Post: 148488-!>