Legend for the 1881 view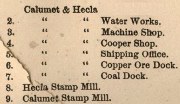 At its peak, this mill complex contained 22 heads to stamp all of the rock from the mines in Calumet. By far the largest in the Copper Country, this mill was decommissioned sometime in the 30s or 40s. C&H used the recently (1923) acquired Ahmeek mill in Hubbell to do all stamping work up to the closing of the mine in 1967.

Only the ruins of the foundations exist today.