The top photo is identified as the Mineral Range R.R. engine no. 83, the first standard gauge engine of this line.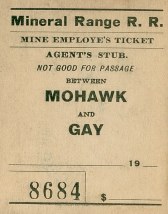 Pass to the Mohawk and Wolverine stamp mills in Gay, stamped on back June 9, 1915

The second photo is the Mineral Range roundhouse near Tamarack location, about 1893. The Tamarack #1 shaft can be seen in the background.