The 2017 open water fish reports are on this link Fish Reports 2017. Our first trip was on Green Bay for whitefish using Steves boat. The Kala Moiakka was launced on May 28. See fish reports fo the summer fishing reports. The boat was pulled on September 15. It has been a very good season.
A new page has been added called FISHING WITH STEVE IN ALASKA. it describes some of the adventures that Bruce and I had up at Edna Bay, Alaska.
Check out the Fishing With Willy 2018 section to get the ice fishing reports. The ice fishing season has started for 2018. Reports will be coming soon.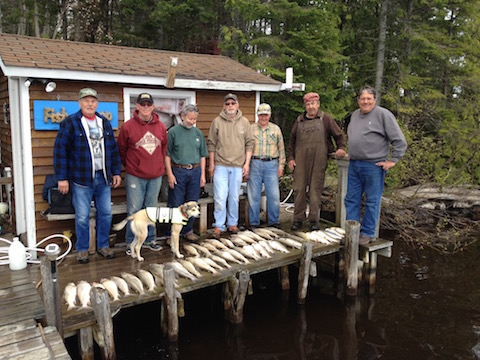 In picture from left to right Ernie, Fred, fish hod Joe, Emil, Bruce, Whitefish Willy, Dave. They got tired of catching fish this year. Our total was 87 for the Memorial Day 2017 weekend.
A section that will be called FISHING WITH WILLY , FISHING WITH WILLY 2012 FISHING WITH WILLY 2013 FISHING WITH WILLY 2014 FISHING WITH WILLY 2015 has been added. click on the link to get there.
Many GHOST NETS OR ABANDONED GILL NETS were discovered again. This is a continuing problem and we finally got a response as to where to report them. Report them to the Great Lakes Indian Fish & Wildlife Commission. Their web site is http://www.glifwc.org/ or phone them at 800 943-4447. For Western Lake Superior contact Warden Dan North, 715 292-5165, dannorth@glifwc.org, or Officer Steven Amsler, 715 562-0034, samsler@glifwc.org for Eastern Lake Superior contact Warden Heather Naigus, 906 458-3778, hnaigus@glifwc.org . Be sure to give them the exact coordinates for the net and tell them if you have placed a buoy marking the net. They will do their best to locate and remove the net.
They have created a report to help you report nets. Here is a link to this report. http://www.glifwc.org/ghostnet.html
We hope to post the coordinates for the nets we find in 2016 here. If you find any nets and want them posted contact me and I will post them.
If you have high speed internet click on this link to get: Bruce's secret fish call!!!
Proof that the "SECRET" fish call works: Bruce's secret fish call - Proof
A good site for current fish reports is from Joe in Marquette. Link to Cooler http://www.superiorfishing.net/